Automated BD Pipeline to Grow your Business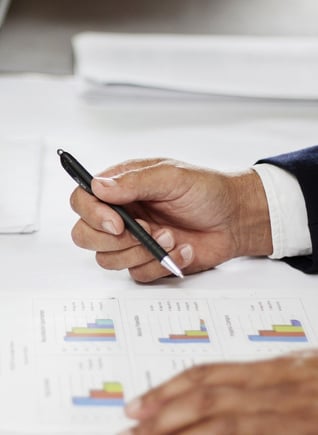 With responsibilities that span business growth and corporate management, Business Development personnel are stretched thin with tasks that pull them in multiple directions. They need a pipeline with up-to-the-minute information to make informed decisions. Making good decisions leads to growth, and growth leads to complexity: more people involved, bigger opportunities, and increasing demands.
To manage effectively in this environment, the BD team must see the forest AND the trees. At a glance, they need to understand the overall impact of their capture and proposal efforts—without calling a meeting—plus they need instant access to all of the relevant details that define each opportunity.
Designed specifically for GovCon BD teams, OneTeam is an integrated, cloud-based platform that supports the entire BD lifecycle through opportunity identification, qualification, capture, proposal development, and contract award.
OneTeam provides a single point of truth for the entire BD team. All of the information related to a pursuit is collected in one secure but accessible place: Opportunity details, gathered knowledge, competitive research, teaming communication, win themes, and proposal strategies. OneTeam's dashboards and analytical tools aggregate the information from all of those opportunities to reveal projected revenue, resource conflicts, and progress toward goals.
Pipeline Management Features
Business Development Dashboard
Visually tracks progress of opportunity pipeline by entire company or by division.

Charts and graphs depict subsets of opportunity data based on customer, role, stage, division, etc.

Gantt charts reveal resource conflicts.

Create your own custom data visualizations.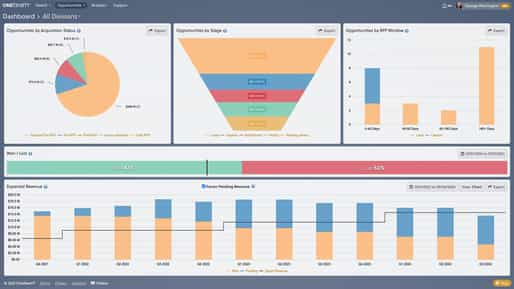 Gate Reviews
Create custom gate review checklists to ensure capture tasks are completed before gate reviews.

Designate custom criteria that capture managers must complete to move opportunity to next gate or phase.

Generate custom charts to support gate reviews and management briefings.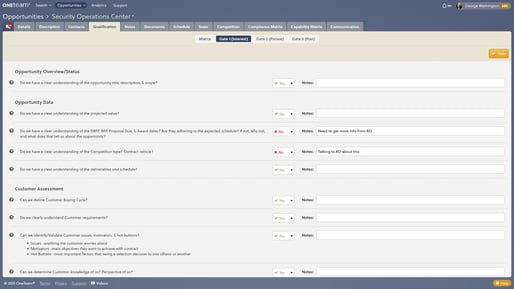 Revenue Projections
Integrates with Power BI for additional analytics.

Slice and dice revenue forecasts to fit any reporting requirements.

Factored revenue projections based on PWin for proposed contracts.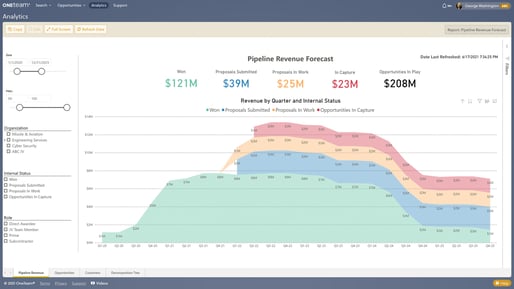 OneTeam for Business Development Executives
The best solution for federal contractor Business Development professionals. OneTeam seamlessly integrates the entire BD lifecycle, the BD Team, and your company processes.
Business Development Blog