Capture Managers can focus on developing winning strategies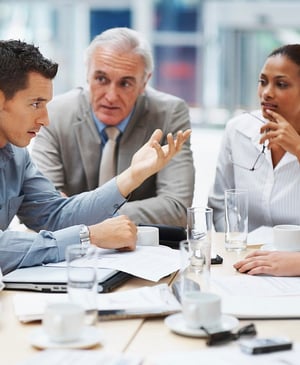 Capture Managers turn their knowledge of contract opportunities into persuasive strategies to win contracts. They develop and execute capture plans that integrate people, processes, tools, and technologies.
Capture Managers need an integrated relational database platform to document what they know and learn about contracts, customers, and competitors and then easily access and share that data.
OneTeam is an integrated, cloud-based platform that supports the entire BD lifecycle from contract identification, qualification, capture, proposal development, and contract award.
OneTeam organizes opportunity data, in an opportunity-centric relational database, so Capture Managers can focus on developing and strengthening customer relationships, assessing and qualifying teaming partners, and developing winning strategies.
Capture Management Features
Dynamic Capability Matrix
Develop a dynamic Capability Matrix for gap analysis and teaming decisions.

Map PWS to capabilities, performance, customer experience, CPARS, or customizable criteria.

Set responses and colors for easy evaluation.

Automatically integrate responses into team response.

Run 'what-if' scenarios to determine best teaming mix.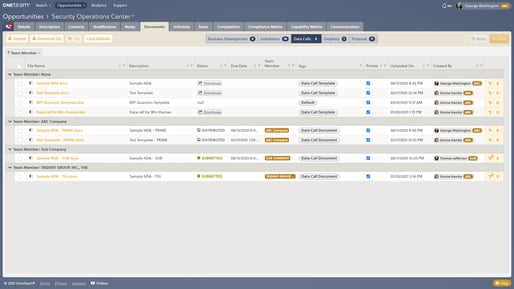 Teaming
Search for Teaming partners using over 20 advanced filters on company SAM and FPDS data.

Designate favorite search parameters and companies.

Invite companies to complete capability matrix.

Manage and track NDAs, teaming agreements, and data calls.

Manage workshare, tasks, and assignments.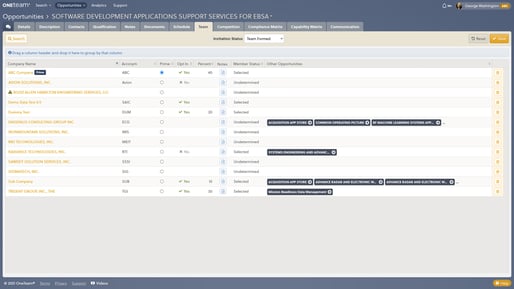 Qualification Matrix
Customize Qualification Matrix to your company's BD process as you set criteria, responses, and weighting of responses.

Create snapshots to document changes as the opportunity matures and is validated through gate reviews.

Focus on the opportunities with higher PWin through Shipley style disciplined, methodical approach.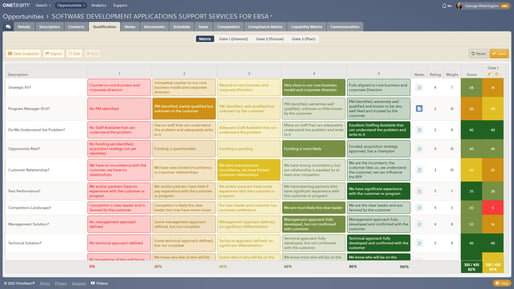 OneTeam for Capture Managers
The best solution for GovCon Capture Managers that seamlessly integrates capture execution with the entire BD lifecycle.
More Capture Management Features